Hypericum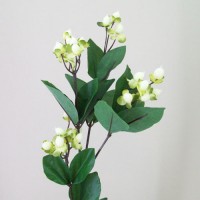 Hypericum | Artificial Flowers
Artificial hypericum berries, AKA rose of Sharon or St John's wort, with their smooth shiny texture are the ideal accompaniment to virtually all artificial flower arrangements & bouquets of mixed flowers. Artificial hypericum are very useful for adding depth and a touch of Autumn seasonality to bridal work. Hypericum will also complement larger headed flowers such as roses and lilies. Small groups of hypericum berries wired together will add a welcome texture to corsages, buttonholes and boutonnieres.
Seasons - all year round
Trivia - Did you know?
Ancient Greeks and Romans put sprigs of Hypericum above statues in their homes in the belief that it would ward off evil spirits
Showing 1 to 7 of 7 (1 Pages)