Amaryllis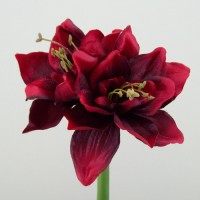 Amaryllis, Belladonna or Barbados lily often has 4 to 6 trumpet shaped bloom at the top of a thick leafless stem.
This statuesque flower is popular at Christmas time although the amaryllis is actually available all year round with the peak growing season being from October to May in the UK.
The bold lines of this lovely bloom mean that they will make an impact when displayed simply as a single stem of when used as a focal flower in any floral display. Try bunching together 10 - 12 stems of artificial amaryllis to form a dome, bind the stems with decorative wire, ribbon or raffia before standing in a wide shallow bowl for an easy floral topiary.
Showing 1 to 5 of 5 (1 Pages)