Lily of the Valley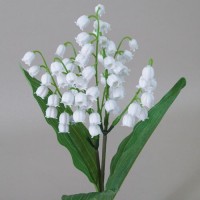 Lily of the Valley is a poisonous woodland flowering plant native throughout the cool temperate Northern Hemisphere in Asia and Europe.
Lily of the valley perfume was a favourite of our director, Helen's, late maternal grandmother. Even though she died when Helen was only six years old, the evocative heady scent of lily of the valley can still transport her back in time to when she was cuddling up on her granny's knee :)
Lily of the Valley saw a resurgence in popularity in April 2011 when it was carried by Kate Middleton in her wedding posy for her marriage to Prince William.
Showing 1 to 5 of 5 (1 Pages)