Anemones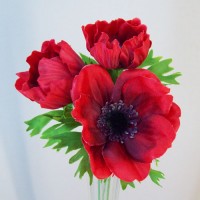 A relative of the buttercup, the anemone or 'windflower', when fresh, does not have a long vase life and has very limited use in flower arranging as they are phototropic and will curve towards the light. Using a silk version of this pretty flower with it's delicate oval shaped petals, surrounding a dark round center, making a cup shaped solitary flower is the perfect solution.
Enjoy their natural beauty by selecting from our range of fabulous artificial anemone.
Decoflora's displays of anemones set in clearwater in dainty glass vases will allow you to enjoy their pretty and delicate blooms at all times.