Agapanthus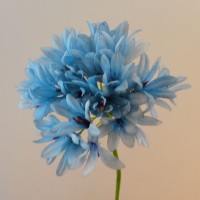 Agapanthus | Artificial Flowers
Common Names: Agapanthus, Lily of the Nile, African Lily
Description: Large globe-shaped clusters of funnel-shaped flowers at the end of a tall stem.
Colours: Blue and shades of purple are the most common colours. White flowered cultivars are available.
Botanical Facts: Agapanthus is Greek for "love flower".
Design Notes: The long stem of our silk agapanthus adds a strong line element with a bold, but airy quality to a floral design. It mixes well with many flowers in many different design styles.
Showing 1 to 3 of 3 (1 Pages)