Metal Flowers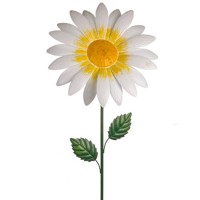 Metal Flowers | Artificial Flowers with a Difference
REDUCED TO CLEAR - ALL MUST GO
Artificial Flower Supplies aim to be at the forefront of the latest innovations in artificial flowers and we are pleased to introduce a new range of hand painted metal flowers.
Our metal flowers range includes metal snowdrops, metal tulips, metal daisies, metal daffodils, metal roses, metal sunflowers and metal gerberas, all hand painted in enamel ready to display in your home, garden or to use as visual merchandising props for exhibitions, shop windows, product launches etc. These fabulous artificial flowers will be available in a wide range of styles and colours.
Why not add pretty metal flamingos to create a focal point?

Showing 1 to 7 of 7 (1 Pages)