Lisianthus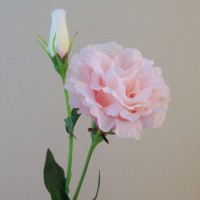 Lisianthus | Silk Flowers
Silk lisianthus has delicate cup shaped, multi-petal blossoms which open into a rose-like bloom with five or more blooms to the stem. These beautiful blossoms are good in mixed flower arrangements.
If using fresh blooms be aware that the blossom heads are very heavy on slender stems, and design so that the heads will remain upright. This is not an important consideration when using silk flowers lisianthus as the wired stems give support to the flowers.
Excellent artificial flowers for bridal and corsage work.
Showing 1 to 7 of 7 (1 Pages)