Pansies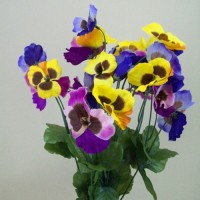 Silk pansies, large and small, in a range of colours that will delight for years to come.
The gardener knows the pansy as a cool weather flower with almost heart-shaped, overlapping petals in bright colors or bi-colors and often with face-like center markings.
Our silk pansies can be used indoors and outdoors wherever you wish to enjoy their natural beauty without the maintenance, in or out of season.
Try adding artificial pansy plants and other silk flowers to fresh flower hanging baskets to lengthen the flowering cycle.
Showing 1 to 14 of 14 (1 Pages)