Alstroemeria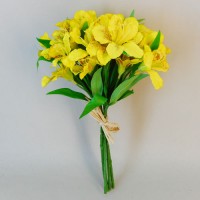 Alstroemeria | Artificial Flowers
The alstroemeria or Peruvian Lily, as it is commonly known, is native to Peru.
It has delicate, trumpet shaped flowers on the end of short flower stalks that spray off of a single stem and is usually freckled or streaked with contrasting colours.
The shape and colours of alstroemeria work well with most asiatic lilies.
Our alstroemeria artificial flowers are a fabulous reproduction of the real thing, capturing the delicate femininity of this pretty bloom perfectly.
Showing 1 to 11 of 11 (1 Pages)