Heads Only Flowers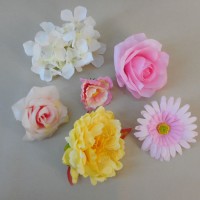 Heads Only Artificial Flowers
For occasions when you only require the flowers and not any stems we offer a range of heads only artificial flowers that have a multitude of applications.
Heads only flowers can be used for wreath making, flower walls, flower ceilings, cake toppers, hair accessories, craft projects, wedding decorations, flower garlands ............ The list is endless!
Add a few more convincing faux flowers from our Flowers by Type collection to a selection of our budget range of Heads Only flowers and you can transform a cost effective display into a more luxurious installation.